Four New titles for 2023-2024! (2 English, 2 French):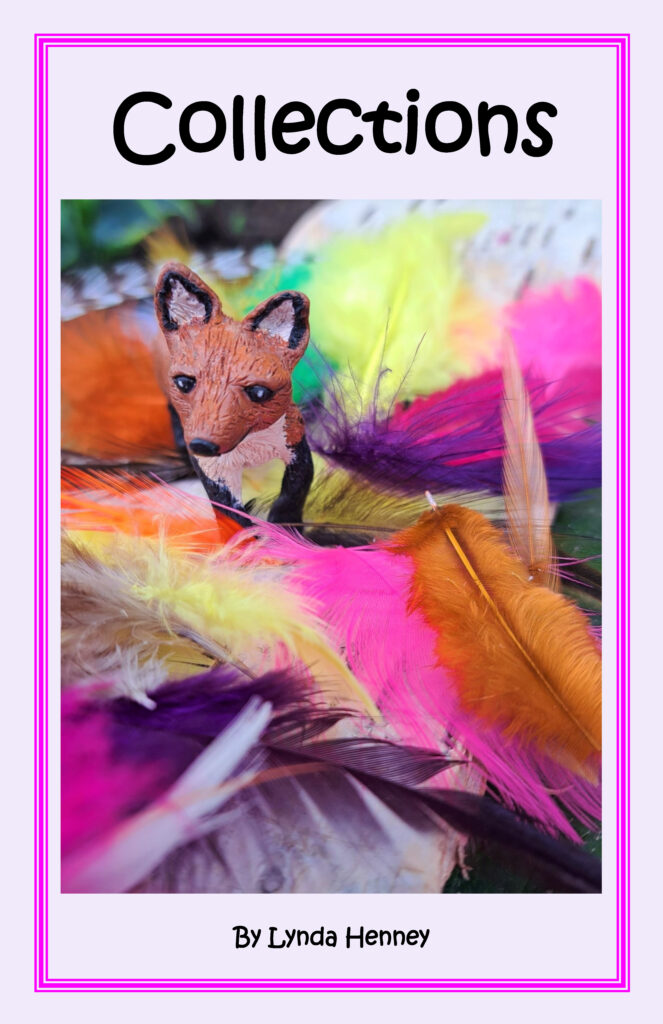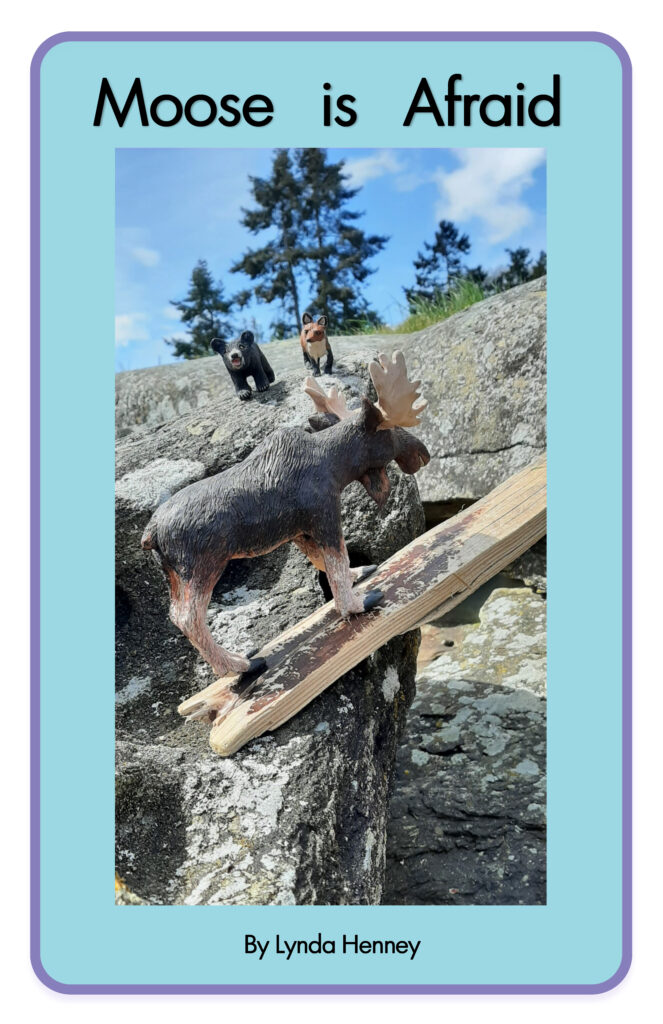 The "Collections" book is perfect for encouraging children to find treasures in the forest and perhaps start a collection of their own. "Moose is Afraid" helps children understand how others might deal with fear. They can empathize with Moose and his fear of heights. It can be reassuring to learn that even big, strong animals like Moose have fears too!
For a closer look at these fun new books, check out the Catalogue or the Shop page.
Click below to see the new order forms and catalogue: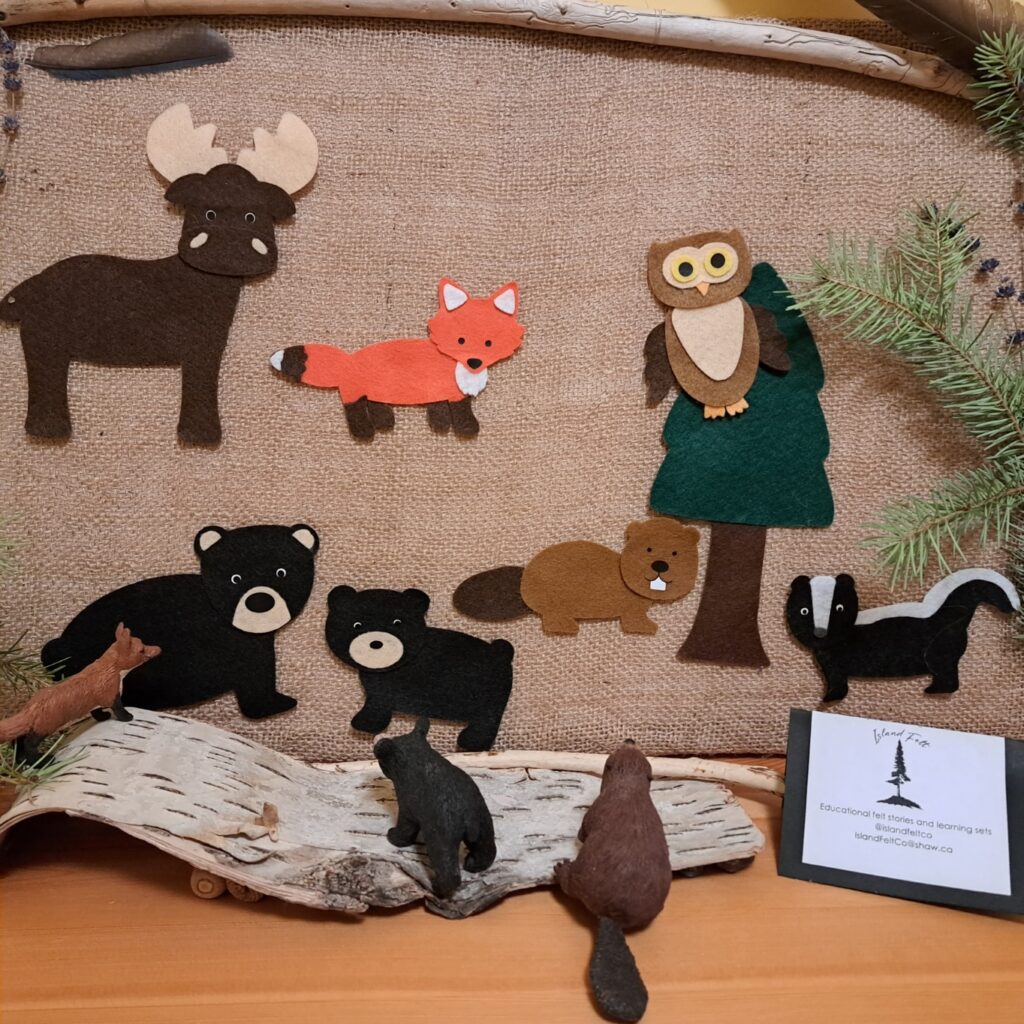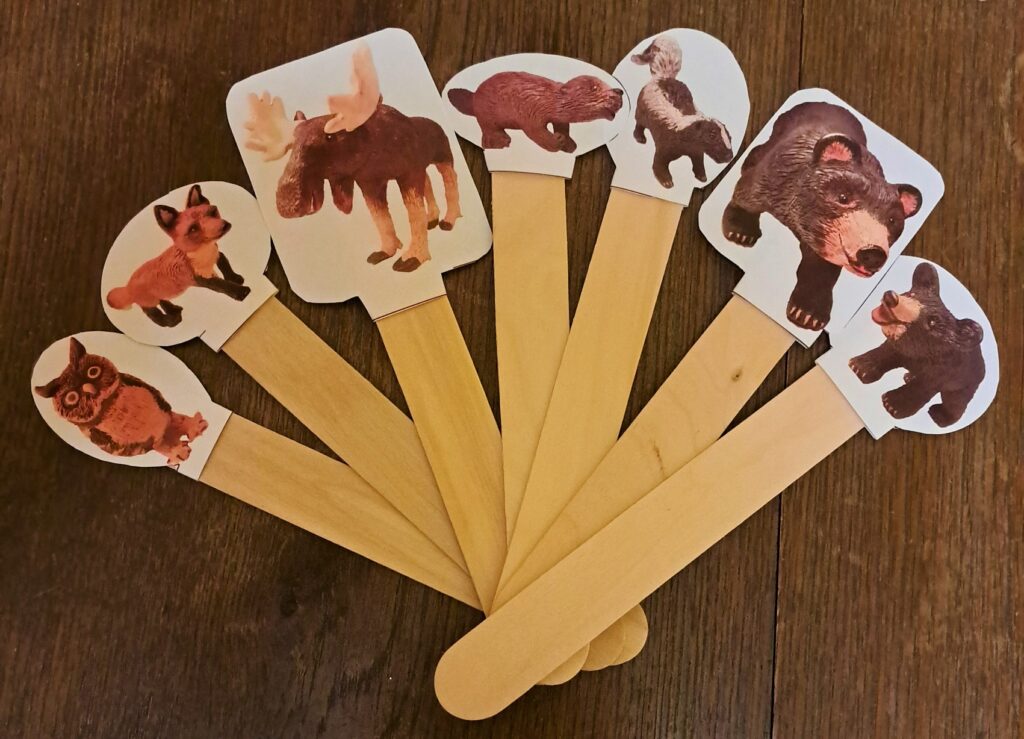 I have created a video called "A Virtual Author Visit with Lynda Henney". Please feel free to share this with your children! I explain how I made my animals and how I write my stories. I also take the animals to the water for a little adventure!
Check out my "Story Videos" page. I have recorded myself reading "Beaver to the Rescue". You will also find videos of Gwenaelle Oger-Black, the French Coordinator for the Delta School District, reading Foxy and Friends books in French!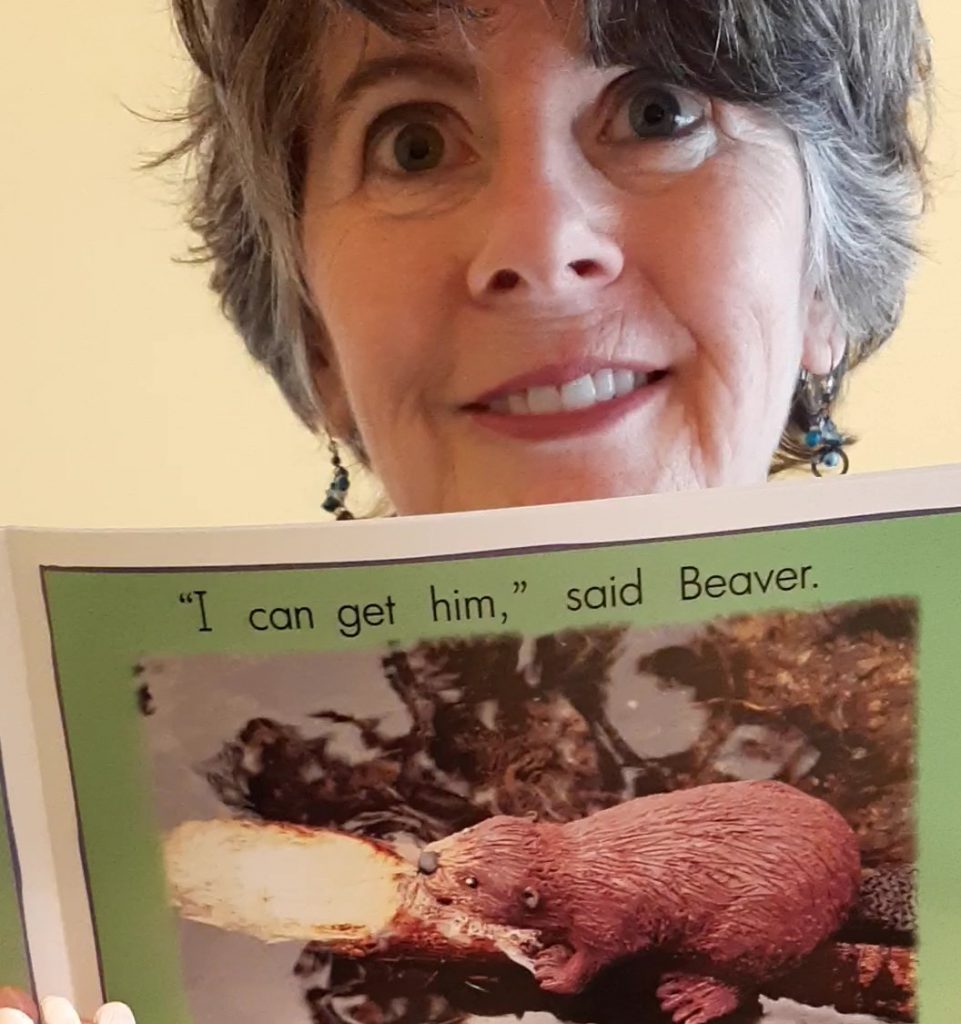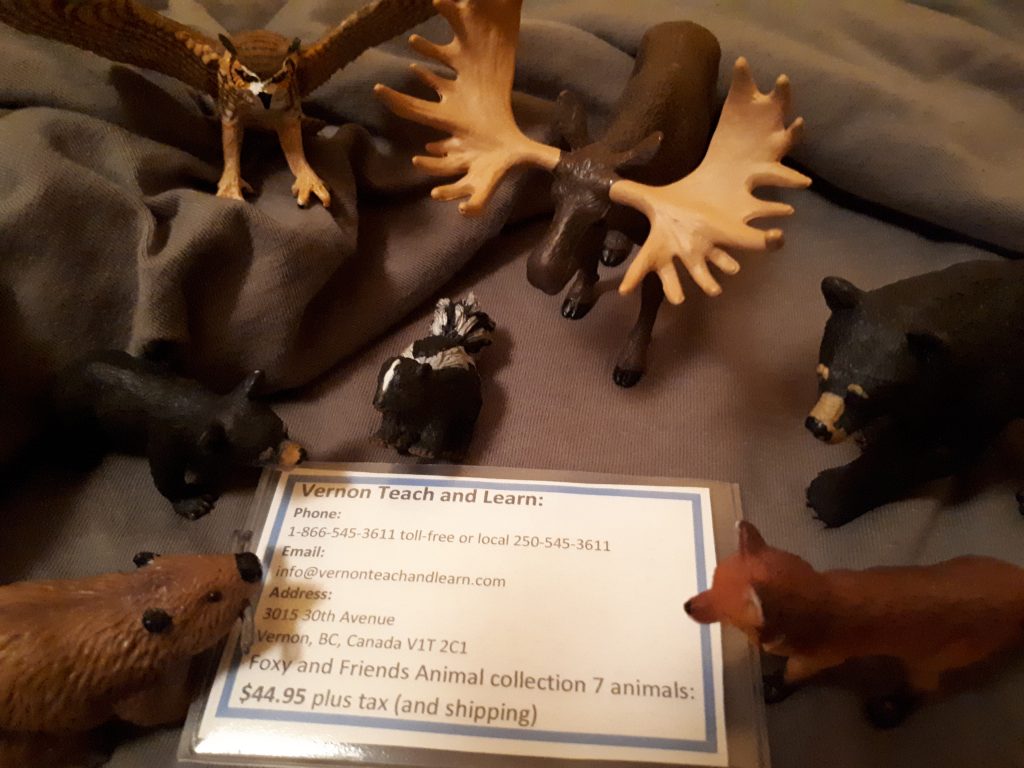 There is an ordering feature on the Shop page. You can order 30 titles with just one click! (Or sets of 2, 3, 4, 5 or 6 of the Foxy titles). Check out The Foxy Adventure Collection. If you click on "Options", you can select either English or French books. Please note that this collection does not include the 6 nonfiction titles. They can be ordered individually or in sets of 6.
The Foxy and Friends Books website is able to accept online orders with eTransfer, credit cards or PayPal. Go to the Shop Books page for online orders.
Follow Foxy and Friends Books on Facebook! Click here.
Are you looking for resources to support the BC Curriculum? Foxy and Friends Books are a great choice! Check out the "Curriculum Links" page for more information.
What people are saying and doing:
Clare Gordon, a teacher in Smithers, BC, sent me some photos and a description of a very fun process she does with her students. "My students take Foxy and Friends (animals) home for a week (or a weekend). They go on an adventure, take some photos, and the parents help to write a letter to the class in Foxy's voice."
The photos below show some samples of Clare's students' work. I can just imagine the fabulous stories the children could tell about these photos!
Look at the fabulous wooden peg characters 2 StrongStart educators in Burnaby have created for the Kindergarten teachers! What a great idea!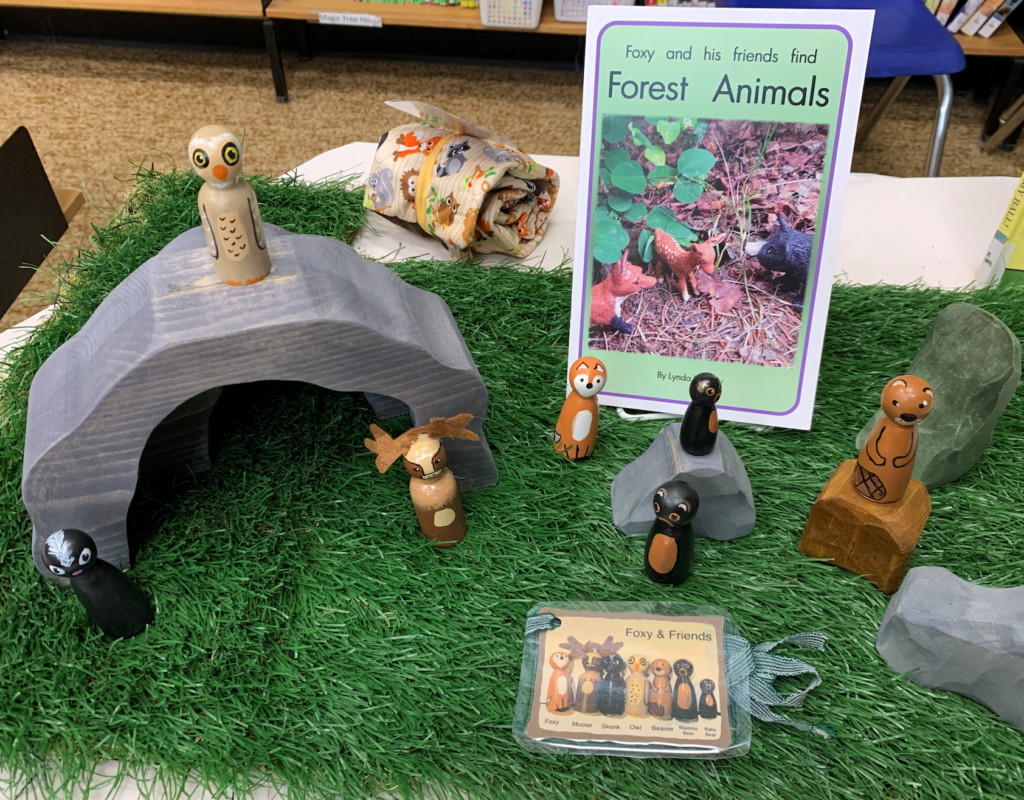 Katie Keier, co-author of "Catching Readers Before they Fall", wrote to me: "I especially love "Nature Art" – it is just perfect for our study of Goldsworthy and connects to so much of what we do. I'm excited to be sharing Foxy and Friends with another group of kindergarteners, who I know will love them as much as I do." Thanks Katie!
The grade 2 students in Erika Momeyer's classroom have been reading Foxy and Friends Books! Look at the great little video they made after Reading, Playing, Talking and Writing their own Foxy story! Foxy Gets a Goose Egg
Watch the little movie Renardo c'est le hero ! made by Jamin! He was inspired by reading Foxy and Friends Books in his Kindergarten class in SD#61. Thanks for sharing Jamin! Jamin's mom, Lisa Shapiro wrote to me: "The experience of watching Jamin put his story together was incredible. The characters, the setting, the story, and the vocabulary all came easily to him because of your books. We were so excited to put it together and see that he could be an author too! Your work is a real inspiration to children and their teachers!" Thank you Lisa!
Thank you to Amelia Hutchinson and her administration for giving permission to access her wonderful blog. Amelia is continuing her work with Story Workshop with her students using a video of herself reading "Foxy and his friends find Forest Animals". You can watch her video on my Story Videos page.
Click below to see Amelia's blog for April 15th and April 16th.
Rebecca Bathurst-Hunt, co-author of the fabulous book, Inquiry Mindset, wrote about Foxy and Friends on her blog: "THIS IS MY NUMBER ONE RECOMMENDATION for a series of books for Story Workshop in Kindergarten, especially if you are just starting out. It is a beautiful set of stories that build on each other, with the same characters throughout. The set is wonderful and is available in English and FRENCH (at a GREAT level for Kinder). I cannot say enough about this set." Follow Rebecca at https://rbathursthuntblog.wordpress.com
Thank you to Kelli Mazurak from Vernon who shared a photo of what her students made. "…our Foxy and Friends forest habitat. The kids absolutely loved doing it and they each created their own story. So fun!"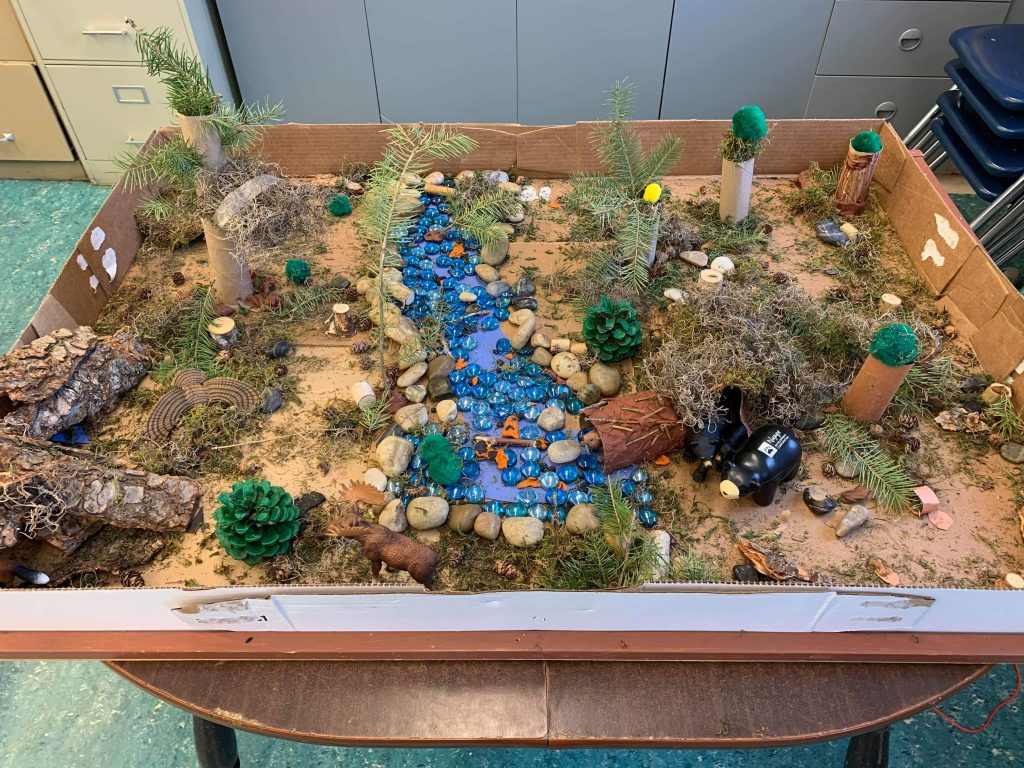 Look at how Lisa Scherr and her colleagues in Prince Rupert used the

process with Foxy and Friends Books!(Click here for more information Read Play Talk Write )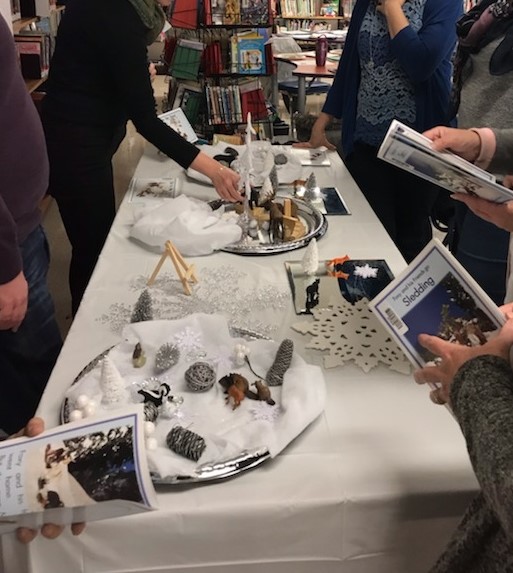 I am so honoured to have received a card from Regie Routman! She wrote: "Thank you for your lovely books! As a former Reading Recovery teacher, I especially appreciate how terrific these are for young readers. The language you use, the content, layout, colors, and illustrations/photos are so appealing. I also like your sight words and vocabulary page at the end– very useful. Congratulations on your great books. Foxy and Friends Books are a delight!"
You can follow Regie on Twitter @regieroutman
Or visit her website: http://www.regieroutman.org/
Katie Keier, co-author of "Catching Readers Before they Fall", wrote to me about Foxy and Friends Books. She said: "I shared them with my team and kids and they were met with overwhelming excitement. We all really like them. The text and spacing is perfect for our young readers and I love the way you made the characters. The art is beautiful. We are going to put these at the top of our order list for our book room." Thank you Katie for ordering all the books!
Thank you to Adrienne Gear for sharing my books on her Facebook page! Check it out: Adrienne's Facebook
"Early primary teachers! If you are looking for some great new levelled books for your guided reading groups – retired Literacy Consultant Lynda Henney from Vernon, B.C. has created an amazing set of books called "Foxy and Friends – Little books for growing minds". –Adrienne Gear
Stephanie Yorath at Crofton House in Vancouver wrote:
"Thank you for the books. I have been using them for so many different things – my students love them. I read a different book today with a group of students and they said "We only want to read Foxy books". One student added "I love it when the characters are the same and I know them".
To practice storytelling I read all the books in groups and as a class and then the students chose one book to retell the story. They set up the scene with loose parts and pictures of the characters and recorded themselves retelling the story. Now they are going to write their own Foxy stories."
Thanks to Carrie Bourne, French Teacher Consultant in Richmond, for these great photos of French Immersion students enjoying Foxy and Friends Books. You can follow Carrie on Twitter @bourne_carrie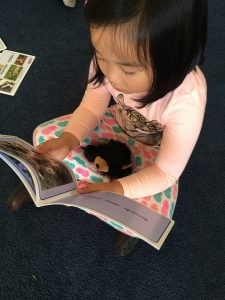 Look at the fabulous provocation Lisa Wilson, Donna Kozak, and Nicole Crane have put together for the teachers of School District 23 (Central Okanagan)! They have purchased all the characters from Foxy and Friends books and added items from the stories such as starfish, trees, crabs, etc. I had the opportunity to see this provocation set up in Jackie Fierbach's Learning Assistance classroom at Hudson Road Elementary. Her students had written their own Foxy adventure and produced a little book called "Baby Bear is Lost" using photographs of the animals in the provocation. What a wonderful example of the Read Play Talk Write process! (Click here for more information Read Play Talk Write )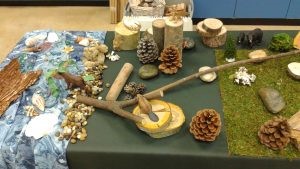 POPEI (Provincial Outreach Program for Early Intervention) recommends Foxy and Friends Books! Thank you to Sasha Žekulin and Lisa Watson! Check out their blog at: https://popei.sd38.bc.ca/news/2017/04/popei-recommends
"Foxy and Friends Books are delightful stories and nonfiction with wonderful (Canadian!) illustrations." –Lori Jamison Rog
"With Foxy and Friends, Lynda is creating a collection of books that capture our early readers. The books are set outside, in various natural BC settings – on the beach with the ocean and mountains as a backdrop, in the undergrowth of the forest, beside a stream…. These are 'must haves' for primary classrooms and 'must reads' (again and again) for early readers. They are an ideal springboard for rich conversations and personal writing." –Faye Brownlie
"Very Reggio Emilia, Lynda!" –Dr. Leyton Schnellert
"My students can't wait to read the next Foxy book! They brought their own little animals from home and we made photo books." –Allison Jmayoff (teacher in Vernon, BC)