You can now follow Foxy and Friends Books on Facebook!  Click here.
I will be in Richmond on Oct 19th, 2018 for the Primary Teachers' Conference. I hope to see you there! Come by my booth and say hello!
All Foxy and Friends Books are available in French!! Check out the "Formulaire de commande" page for an order form or the "Catalogue" page for a closer look at each book.
4 new titles for the Foxy and Friends series!

Use the new order form or the "Shop" page (English only) to place orders. You can also look at the "Catalogue" page for more information (French and English).
The Foxy and Friends Books website is able to accept online orders with credit cards or PayPal. Go to the "Shop" page for online orders (English only).
Are you looking for resources to support BC's New Curriculum? Foxy and Friends Books are a great choice! Check out the "Curriculum Links" page for more information.
What people are saying and doing:
Katie Keier, co-author of "Catching Readers Before they Fall", wrote to me about Foxy and Friends Books.  She said:  "I shared them with my team and kids and they were met with overwhelming excitement. We all really like them. The text and spacing is perfect for our young readers and I love the way you made the characters. The art is beautiful.  We are going to put these at the top of our order list for our book room."
Thank you to Adrienne Gear for sharing my books on her Facebook page! Check it out: Adrienne's Facebook
Stephanie Yorath at Crofton House in Vancouver wrote:
"Thank you for the books. I have been using them for so many different things – my students love them. I read a different book today with a group of students and they said "We only want to read Foxy books". One student added "I love it when the characters are the same and I know them".
To practice storytelling I read all the books in groups and as a class and then the students chose one book to retell the story.  They set up the scene with loose parts and pictures of the characters and recorded themselves retelling the story. They are so cute.  Now they are going to write their own Foxy stories."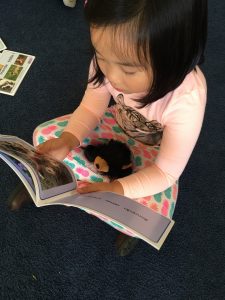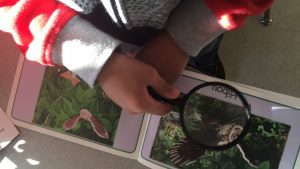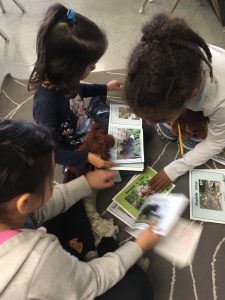 Thanks to Carrie Bourne, French Teacher Consultant in Richmond, for these great photos of French Immersion students enjoying Foxy and Friends Books.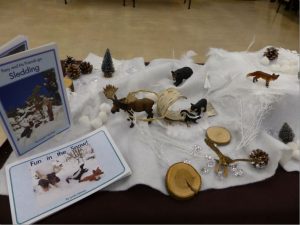 Another cool provocation from Nicole Crane (SD#23 Kelowna) to go with my new winter books, "Fun in the Snow" and "Foxy and his Friends go Sledding"!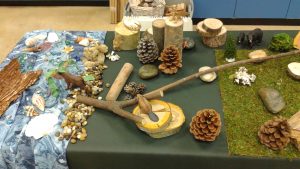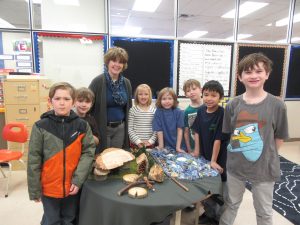 Look at the fabulous provocation Lisa Wilson, Donna Kozak, and Nicole Crane have put together for the teachers of School District 23 (Central Okanagan)! They have purchased all the characters from Foxy and Friends books (most are available at Michaels or Teach and Learn in Vernon, call Lynella at 250-545-3611) and added items from the stories such as starfish, trees, crabs, etc. I had the opportunity to see this provocation set up in Jackie Fierbach's Learning Assistance classroom at Hudson Road Elementary. Her students had written their own Foxy adventure and produced a little book called "Baby Bear is Lost" using photographs of the animals in the provocation. What a wonderful example of the Read Play Talk Write process! (Click here for more information Read Play Talk Write )
POPEI (Provincial Outreach Program for Early Intervention) recommends Foxy and Friends Books! Thank you to Sasha Žekulin and Lisa Watson! Check out their blog at: https://popei.sd38.bc.ca/news/2017/04/popei-recommends
"Foxy and Friends Books are delightful stories and nonfiction with wonderful (Canadian!) illustrations." –Lori Jamison Rog
"Early primary teachers! If you are looking for some great new levelled books for your guided reading groups – retired Literacy Consultant Lynda Henney from Vernon, B.C. has created an amazing set of books called "Foxy and Friends – Little books for growing minds". –Adrienne Gear
"With Foxy and Friends, Lynda is creating a collection of books that capture our early readers. The books are set outside, in various natural BC settings – on the beach with the ocean and mountains as a backdrop, in the undergrowth of the forest, beside a stream….  These are 'must haves' for primary classrooms and 'must reads' (again and again) for early readers.  They are an ideal springboard for rich conversations and personal writing."  –Faye Brownlie
"Very Reggio Emilia, Lynda!"  –Dr. Leyton Schnellert
"My students can't wait to read the next Foxy book!  They brought their own little animals from home and we made photo books."  –Allison Jmayoff  (teacher in Vernon, BC)